Antwerp is a creative pool
Creativity initates innovation
Antwerp is known worldwide as a hub of creativity and innovative entrepreneurship. Creative talent studies in Antwerp, starts up companies and flourishes in the city after which it moves abroad. Antwerp's creative economy is a dynamic sector and its entrepreneurs provide excellent investment opportunities.
"Antwerp's chances to sustain itself lie in reinforcing its cultural richness and resonance both in its mainstream and alternative forms; by projecting its heritage and innovation simultaneously; by uplifting the quality of its suburbs as well as the centre through quality design; by blending well contemporary and historic architecture; by being globally connected and present and by revitalizing its learning system for the coming era."
-- Charles Landry, 2016
Who are they?
The Antwerp creative scene is quite vibrant. Since the Antwerp Six fashion has become indisputably associated with Antwerp but the other main creative sectors are also heavily represented in the city and work closely together. These include design, ICT and new media, music, audiovisual, advertising and communication, print media, architecture and the cultural industry. 
With 1 on 10 business establishments being creative businesses in Antwerp,The city offers the ideal ecosystem for creative companies to flourish and grow internationally.
Where?
Creative entrepreneurs feel at home in Antwerp, especially in the city's centre. Almost two thirds of the creative industry is situated in the area between Antwerp's Ring road, the Eilandje district and the River Scheldt. In contrast with other large cities Antwerp has no specific creative districts. Instead the city centre is one large creative district with creative companies, specialising in every possible discipline, located in this area. 
Some parts of the city, however, are real creative hotspots. The most creative neighbourhood is situated in the area around Leopold De Waelplaats and the filled in Southern Docks. Here you will run into several advertising agencies, communication agencies, ICT companies and new media. The fashion and jewellery industries are well represented in the area around Nationalestraat whereas the cultural sector and print media tend to conglomerate in Zurenborg district. The area around the Academy and Mutsaardstraat is home to a large share of the city's design consultancies and architect's firms. 
Why invest in creative economy?
Creative companies have the potential to grow fast, a trend which is reflected in the strong growth of the creative sector in general.

Start-ups and growing companies in the creative sectors can make great headway because they focus on innovation with a limited investment.

The creative economy is closely interwoven with various sectors and businesses, and potentially can rely on a global market.

Whereas the start-up phase and the initial growth are a very local occurrence all the creative sectors tend to focus on foreign expansion.
Antwerp, a city of design
Antwerp has a strong reputation for design of all types, including industrial design, thanks to the University of Antwerp's excellent course in product development. Many Flemish (industrial) design studios have been set up by Antwerp alumni.
ANTWERP. POWERED BY CREATIVES.
ANTWERP. POWERED BY CREATIVES.'s design platform allows designers, companies, schools and public authorities to join forces to boost cross-pollination and collaboration between diverse design disciplines and industrial sectors. By enabling networking, knowledge exchange and communication, the platform aims to develop projects that stimulate innovation and experimentation in dynamic and inspiring businesses across the Antwerp region.
Antwerp, a city of fashion
TRAINING GROUND
What do Martin Margiela, Dries Van Noten, Glenn Martens and Christian Wijnants have in common? An Vandevorst and Filip Arickx? Kris Van Assche, Brandon Wen, Maximilian Rittler, Eduard Both, Nick Haemels, Sander Bos, Jan-Jan Van Essche, Peter Pilotto, Meryl Rogge, Flora Miranda, Charlotte De Geyter, or Rushemy Botter? Shayli Harrison or Shuting Qiu? That's right, they're all graduates of Antwerp's Royal Academy of Fine Arts' Fashion Department. Attracting students from across the globe, this academy is considered one of the most important and influential fashion schools in the world. Headed by Walter Van Beirendonck, it combines rigorous training in traditional skills (tailoring, pattern design, etc.) with a marked emphasis on creativity and individuality. The annual graduation show is a highlight on Antwerp's fashion agenda.
BUSINESS COACHING
Flanders District of Creativity is the single point of contact for entrepreneurs in the creative industries in Flanders. Flanders DC has merged with Flanders Fashion Institute and Design Flanders and is a non-profit organization, supported by the Flemish Government. We actively inform, coach, connect, promote and inspire creative entrepreneurs who want to build or grow their business. Return on creativity is what we're after.
DISCOVERIES
The ModeNatie building in the center of the city also houses MoMu, one of the world's leading fashion museums. This dynamic and inspiring space presents contemporary and historical fashion in its social, political and cultural context. Exhibitions feature the best of international names and Antwerp-grown talent including Haider Ackermann, Bruno Pieters, Dirk Bikkembergs and Ann Demeulemeester.
SHOP
The streets surrounding the ModeNatie building form the heart of the city's fashion district. The area features flagship stores of leading lights such as Dries Van Noten, Christian Wijnants and La Collection, renowned boutiques like Louis and Thiron and Antwerp-based brands including Essentiel and Morrison. It's the perfect place to find your next outfit. Find out more on fashioninantwerp.be.
Why invest in Antwerp?
Antwerp has an international reputation and appeal as a creative hotspot.

Illustrious predecessors and excellent training programmes attract talent and visitors from all over the world.

The city's central location and excellent connections with Paris, London and Amsterdam.

A pocket-sized, attractive and business-friendly city with a world port.

Affordable workshops, office space and retail premises.

50,000 students in Flanders' largest city.

A strongly interwoven creative, culinary and retail landscape.

An excellent cultural offering and quality of life.

Many start-ups, also in the technological sectors.

International appeal and trade relations (diamond sector, port…).

Crossovers and collaborations with the traditional sectors (diamond, retail, logistics, petrochemicals).

Large-scale urban projects focussing on innovative economy (Blue Gate Antwerp, BlueChem, BlueApp …)
Antwerp, a city of art
Over the centuries, Antwerp has been at the forefront of the international arts scene, largely thanks to its port. Traffic from the port turned the city into a bustling metropolis, where patrons supported artists and inspiration (and customers) arrived from all over the world. Gems from Antwerp's rich art past and present can be found in the city's many museums and galleries. To whet your appetite, think of internationally known visual artists such as Pieter Paul Rubens and Antoon Van Dyck, Fred Bervoets and Luc Tuymans, photographers Marc Lagrange and Herman Selleslags, choreographer Sidi Larbi Cherkaoui and theatre maker Guy Cassiers.
Bring Rubens back to life
Rubens old and boring? Forget it. The Rubens House Museum and Prophets Agency have launched a mobile app to personalise museum visits, with individual, themed tours, interactive kids activities and extra information about displayed or connected artworks.
Galleries
Antwerp Art connects and promotes a selection of quality contemporary art galleries, art spaces and museums, as well as a brisk pool of upcoming art initiatives and pop-up exhibition spaces in Antwerp.
Much more to find on AntwerpArt, but as an introduction to art galleries: Tim Van Laere Gallery, Zeno X Gallery and Gallery Sofie Van de Velde.
Antwerp, a city of architecture
Desingel
When you drive into Antwerp, you can't miss deSingel, a unique building that strongly interweaves architecture, music, theatre and dance into its infrastructure. deSingel, originally designed by the Antwerp architect Léon Stynen and extended by Stéphane Beel Architects in 2010, is also home to the Flanders Architecture Institute.
Architecture in Antwerp
Besides a rich heritage of outstanding historical buildings, including City Hall, Plantin-Moretus museum and 'Boerentoren' (the first modernist high rise building in Europe), Antwerp also welcomes modern architecture. Iconic buildings include the splendid Museum aan de Stroom, designed by Neutelings Riedijk architects, the courthouse designed by Richard Rogers, the Theatre Square by Secchi & Viganò, the Pulcinella youth hostel by Vincent Van Duysen, the community sports hall in Park Spoor Noord by Verdickt & Verdickt architecten, and the awning by B-architecten in Antwerp's Kiel neighbourhood.
The Umicore building by Conix Architecten, located slightly further from the centre, is also well worth a visit. The Felix archives building is maybe one of the best examples of how the city succeeds into bringing together old and new and combining it with a diverse offering of music, food, seminars, parties...
How Atypical can a city be?
Antwerp has chosen a German architect, Christian Rapp, as the new city architect (January 2016 - 2021). With his international experience and knowledge of world cities such as Berlin and Amsterdam, Christian looks forward to achieving his goal of creating a platform for cross-sector projects in three areas: public space, urban design and architecture.
The latest architectural highlight?
the new Harbour House designed by Zaha Hadid.
Antwerp, a city of music
Antwerp lives and breathes music. From far-out avant-garde experiences to top-notch classical concerts, from jazz cellars to pounding dance events, there's always something happening. And while some performances are small and intimate, others have broader appeal, like Tomorrowland, the world's largest dance festival. Classical and jazz talent is nurtured in institutions like the Royal Conservatory (located in the arts centre deSingel, which features two prime concert halls), pop and rock performers gain experience in music centres like Het Bos and Trix, the latter of which offers everything to guide productions from creation to performance including rehearsal space, studio recording and PA rehearsals. Rock band dEUS is one of the best known musical exponents of the city, operating from their studio in Borgerhout. Smaller rehearsal setups, independent management agencies and record companies are dotted throughout the city, making it the ideal breeding ground for musical talent. And at the same time Antwerp hosts one of the most popular concert halls in the world: Sportpaleis. So while you try and decide which gig to head to first, take a minute to listen to one of the many buskers in town. He might just be headlining a major festival in a couple of years.
Antwerp, a city of books
A as in ABC. Antwerp Book Capital.
From Christoph Plantin establishing the city as one of the world centres for printing and publishing in the 16th century to being crowned UNESCO World Book Capital in 2004, literature has always been welcome in Antwerp. And literature continues to hold a special place in the city's heart. Just take a look at the comic and poetry walls that decorate the streets as you wander between the city's many specialised bookstores like Cronopio, Mekanik Strip, Copyright and De Groene Waterman.
But there's a lot more going on than meets the eye. Antwerp houses an impressive array of the country's most important publishing houses, such as WPG or Vrijdag. Antwerp's contemporary authors are supported by dozens of literary organisations as they walk in the footsteps of literary giants like Willem Elsschot, Paul van Ostayen and Hugo Claus.
More information on antwerpenboekenstad.be.
"Real power will come when the creative sector and app driven industry come together. Together these play the crucial role contributing not just to adding economic value, jobs, image and tourism benefits, but they are driving the evolutionary process of the economy, culture and society as a whole. There is power in their spin-offs and these have migrated into everything enhancing the value of all products and services. The current economy could not run without them."
-- Charles Landry, 2016
Antwerp, a city of things
Converting city buildings into harbours of innovation and creativity is cool. But, Antwerp goes one step further and has converted the entire city into a massive testing ground for new tech products. We're a Beta city, remember?
City of Things, the largest living lab in the world, offers a citywide network of sensors and beacons and a strong mobile testing panel. Startups willing to test a product or a piece of technology can freely do so in Antwerp. It goes without saying, that this drastically lowers costs and improves the 'go-to-market' speed.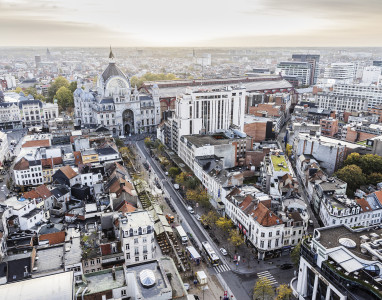 Antwerp's diamond companies have put the city on the world map as a diamond capital. A status that Antwerp wants to maintain and strengthen. That is why the city launched the five-year innovation programme "Antwerp Diamond Innovation Opportunities" in 2020.
In 2022, together with the agency Verhaert | Masters in Innovation the city supervised 4 innovative projects.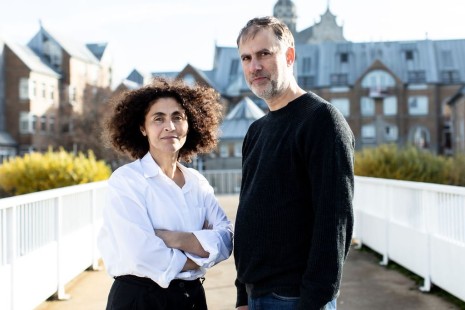 Technology meets fashion: Polygonal innovates the fashion world with tech